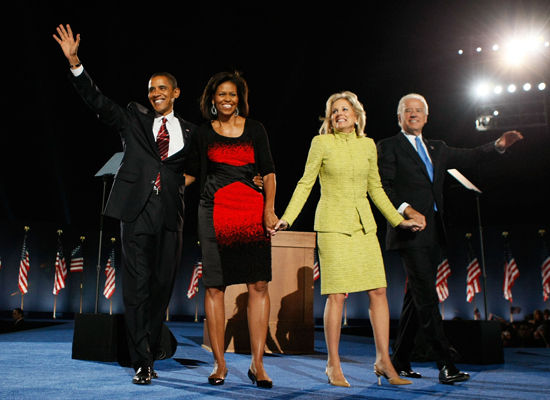 Huffington Post
When Barack Obama gave his moving speech on election night 2008, he unified the nation.
"And to those Americans whose support I have yet to earn, I may not have won your vote tonight, but I hear your voices. I need your help. And I will be your president, too."
A number of weeks ago, a couple of my Dominican colleagues and myself were working together, but in the midst of some slight tension. Politics-related, the intensity of the 2008 election race season had set us all on edge.
Before it became really bad, though, we made amends. After all, these were girls, whom before I learned their persuasions, I had met and initially thought, "These are some rad chicks; I bet we'll become friends."
There have been a lot of exciting changes and possibilities not only in the journalism industry, but in Dominican's Convergent Journalism class this semester. And it's true that we became a much stronger team when we weren't on opposing sides. Well, no kidding!
"Tonight we proved once more that the true strength of our nation comes not from the might of our arms or the scale of our wealth, but from the enduring power of our ideals: democracy, liberty, opportunity and unyielding hope."
Those values are what matter; not partisanship, red herrings, or petty issues. Our core ideals don't differ from between "sides," but they are qualities that
everybody
desires. If we dig a little deeper, we see that maybe we're all not that different.
"In this country, we rise or fall as one nation, as one people. Let's resist the temptation to fall back on the same partisanship and pettiness and immaturity that has poisoned our politics for so long."
After all was said and done, and some ego-checking, I knew that my colleagues and I could be powerhouses if we worked together. Tuesday night I saw this reflected on a global scale: the greatness of what happens when people come together.
BBC News
Huffington Post
timesonline.co.uk
Divided we fall, united we stand.
Oprah reiterated that philosophy on her post-election show. At the end of the broadcast, Vince Gill, Wynonna Judd, and Bebe & CeCe Winans (artists from very different styles of music--country and gospel) performed a song that encapsulates this push toward unity. At first I thought it might be cheesy, but it's beautiful and inspiring. The accompanying video highlights the great moments of the election race, as well as inspiring footage from across the country that shows that yes, we do "need each other."
This video isn't the best quality, but I will post a better version when one is uploaded.